Training the local private sector in Simple, Market based, Affordable, and Repairable Technologies
The GSB SMART Centre Mozambique
Our vision for the SMART Centre is to become a capable training & implementing Centre, well known in Mozambique in assisting rural communities to improve their living conditions in terms of water, sanitation, food security; being able to develop themselves, contributing substantially to large scale implementation of WASH SMARTechnologies.
Our mission is to strengthen the rural communities capacities, providing them with knowledge, know-how and sustainable technologies to overcome poverty and improve health.
Our approach is innovative, consisting of four elements; Application of Innovative technologies; Supporting the local private sector; Application of Self Supply and MUS concept; Developing income generation by household farmers.
Highlights
Irrigation with rope pumps in Bilibiza
| | |
| --- | --- |
| | |
| One of the farmers is irrigating with a water can | The rope pump on a tube well provides the water |
This Farmer's Club was created by GSB with funds from Foundation MSM and a tube well with rope pump was provided for irrigation and drinking water.  After the project, 6 members (5 man and 1 women)  kept continually  producing vegetables for income and for their own family use. They are doing well. Last year they had a net income of $ 8650,00 which has been divided between the  6 members. They have invested in buying land as their property, 3 ha for  $ 300.  Last year they produced  2.5 tonnes of onions and 800 kgs of Garlic.  The rest of the crops, like green pepper , salad, green beans, cabbage, they did not record because they were using those for eating and sales, and also they did not have such a high value compared to onion and garlic. The rope pump has been installed in Bilibiza near by the Montepuez river, at Montepuez Bairro, placed on a tube well of 6m depth, drilled with the manual drilling method, by GSB. The well has always water for irrigation and drinking. The pump was funded by MSM, they are doing maintenance by themselves, through contribution and all of them are good technicians in fixing the rope pump, because 3 of them were water comities member during the MSM project The pump is used to irrigate about 1000 square meter but the area is large enough to enough to install one more pump to cover the whole area. From the obtained income, they can now pay the second pump for 100% by themselves. They will pay 25% every 3 months. They have been trained on agricultural production, water & sanitation and rope pump maintenance, through GSB Smart centre Mozambique. Since the well is private they prevent people in general to take drinking water from it. Only about 20 to 30 people, which are relatives from the members of the group, are taking drinking water daily. Some of the users use House Hold water filters, others not. According  Bachir Afonso, director of GSB: "The big challenge all the farmers are facing is that there is an agro shop nearby. And although we have more farmers trained in previous projects, they cannot process because transport is very expensive and they also lack accessibility of agricultural inputs. We should have more examples and growth of the farmers production. If they grow enough they can buy or hire our services. I think it can be a sustainability strategy for running fluently our SMART centre, because many customs are farmers. We need to invest in them to become sustainable. Honestly farmers have a good market to sell vegetables, with coming external Industries in the North of Mozambique there will be more opportunities for farmers to participate in this process, but they need to produce a lot and with good quality.  Now I think we need to establish agro shops for sustainability  of the SMART centre Mozambique".
Cooperation with IDE; drilling wells with the Mzuzu drill.
Recently (November 2017)  trainers of  GSB SMART Centre trained 11 people from Tete and 6 from Chimoio.  The participants got hands-on training in manual drilling with the Muzuzu dril and in Rope Pump making.  3 wells were drilled and combined with a Rope pump. The training took place in Chimoio  and was organised for the organisation IDE, see  https://www.ideglobal.org/country/mozambique
| | |
| --- | --- |
|   |   |
| Trainees in action with drilling with the MZUZU Drill | Releasing the acquired ground from the Drill |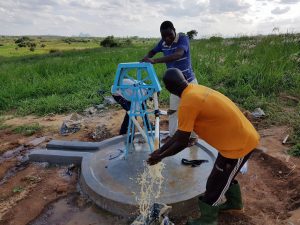 One of the three completed Wells with Hand Rope Pump installed, giving water for the first time.
Arrakis trains the SHIPO drill method
In 2015, the GSB team drilled over 40 tube wells to 12 meters deep with the so called Mzuzu drill method. To make deeper wells the Arrakis trainer Henk Holtslag was in Bilibiza in March to train GSB staff in the so called SHIPO drill method. read more
Interested to support or join?
Home