Training the local private sector in Simple, Market based, Affordable, and Repairable Technologies
The GSB SMART Centre Mozambique
Our vision for the SMART Centre is to become a capable training & implementing Centre, well known in Mozambique in assisting rural communities to improve their living conditions in terms of water, sanitation, food security; being able to develop themselves, contributing substantially to large scale implementation of WASH SMARTechnologies.
Our mission is to strengthen the rural communities capacities, providing them with knowledge, know-how and sustainable technologies to overcome poverty and improve health.
Our approach is innovative, consisting of four elements; Application of Innovative technologies; Supporting the local private sector; Application of Self Supply and MUS concept; Developing income generation by household farmers.
Highlights
Cooperation with IDE; drilling wells with the Mzuzu drill.
Recently (November 2017)  trainers of  GSB SMART Centre trained 11 people from Tete and 6 from Chimoio.  The participants got hands-on training in manual drilling with the Muzuzu dril and in Rope Pump making.  3 wells were drilled and combined with a Rope pump. The training took place in Chimoio  and was organised for the organisation IDE, see  https://www.ideglobal.org/country/mozambique
| | |
| --- | --- |
|   |   |
| Trainees in action with drilling with the MZUZU Drill | Releasing the acquired ground from the Drill |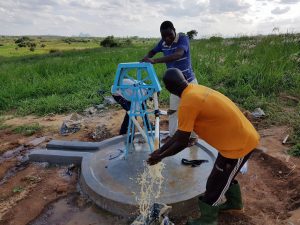 One of the three completed Wells with Hand Rope Pump installed, giving water for the first time.
Arrakis trains the SHIPO drill method
In 2015, the GSB team drilled over 40 tube wells to 12 meters deep with the so called Mzuzu drill method. To make deeper wells the Arrakis trainer Henk Holtslag was in Bilibiza in March to train GSB staff in the so called SHIPO drill method. read more
Interested to support or join?
Home