Training the local private sector in Simple, Market based, Affordable, and Repairable Technologies
The GSB SMART Centre Mozambique
Our vision for the SMART Centre is to become a capable training & implementing Centre, well known in Mozambique in assisting rural communities to improve their living conditions in terms of water, sanitation, food security; being able to develop themselves, contributing substantially to large scale implementation of WASH SMARTechnologies.
Our mission is to strengthen the rural communities capacities, providing them with knowledge, know-how and sustainable technologies to overcome poverty and improve health.
Our approach is innovative, consisting of four elements; Application of Innovative technologies; Supporting the local private sector; Application of Self Supply and MUS concept; Developing income generation by household farmers.
Highlights
Example of an integrated development approach in 19 de Outubro Village
GSB is trying the best to always use an integrated approach, that includes WASH, food security and renewable energies, to assist communities to meet their main challenges. We strongly believe that with better water and sanitation conditions, people won't get sick regularly (mainly with diarrhoea and cholera)  and their nutrients that are in general scarce will be kept in their bodies and the children will not suffer from malnutrition. And women's workload with fetching water and wood, as well as taking care of the ill won't be so heavy. read more
Irrigation with rope pumps in Bilibiza
| | |
| --- | --- |
| | |
| One of the farmers is irrigating with a water can | The rope pump on a tube well provides the water |
This Farmer's Club was created by GSB with funds from Foundation MSM and a tube well with rope pump was provided for irrigation and drinking water.  After the project, 6 members (5 man and 1 women)  kept continually  producing vegetables for income and for their own family use. They are doing well. Last year they had a net income of about $ 5000,00 which has been divided between the  6 members. read more
Cooperation with IDE; drilling wells with the Mzuzu drill.
Recently (November 2017)  trainers of  GSB SMART Centre trained 11 people from Tete and 6 from Chimoio.  The participants got hands-on training in manual drilling with the Muzuzu dril and in Rope Pump making.  3 wells were drilled and combined with a Rope pump. The training took place in Chimoio  and was organised for the organisation IDE, see  https://www.ideglobal.org/country/mozambique
| | |
| --- | --- |
|   |   |
| Trainees in action with drilling with the MZUZU Drill | Releasing the acquired ground from the Drill |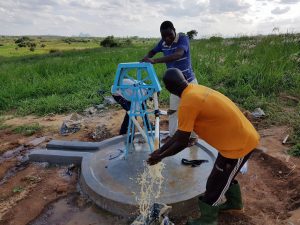 One of the three completed Wells with Hand Rope Pump installed, giving water for the first time.
Interested to support or join?
Home